Get your furry friend ready for Halloween with our spooktacular dog costumes! From adorable pumpkins to scary skeletons, we've got a range of options to choose from. And the best part? You can enjoy discounts on these already affordable costumes. Hurry, these deals won't last long. Dress up your dog in style this Halloween and let them join in on the fun!
Don't miss out on the best deals and huge savings at our Halloween Dog's Costumes sale! Our selection of cute and spooky outfits is already discounted, and with limited-time offers, these prices won't last long. Use our CouponX Blog for exclusive deals and hurry, as this sale soon expires. Buy now to dress up your pets in style and make this Halloween unforgettable!
Spider Pup Costume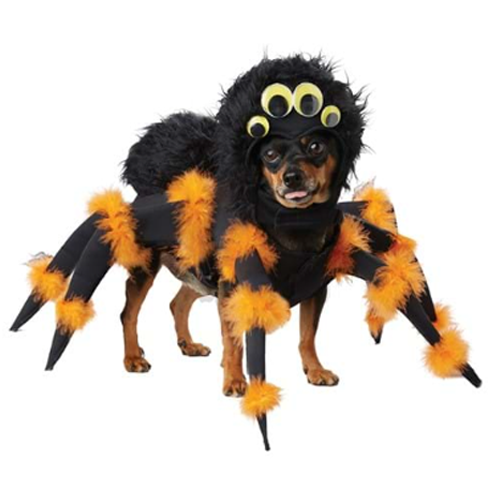 This pet costume is made from 100% polyester fabric with a faux fur blend. It secures around your dog's chest with Hook and Loop fasteners, and it features 8 foam legs attached to the body. The stuffed hood includes a Hook and Loop chin strap. Just remember, if you spot oversized webs, it's time to store the costume away!
DEAL PRICE: $29.99
Bootique Queen Bee Costume for Dogs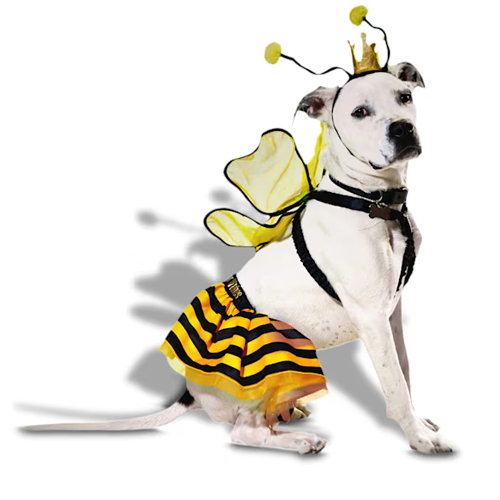 Turn your pet to royalty with Bootique's Queen Bee Costume. This 3-piece set includes a charming skirt, wings, and a headband, making your dog the buzz of the town. Ideal for Halloween parties or trick-or-treating, embrace the spooky season with style and fun from Bootique.
Size – XX Small.

DEAL PRICE: $7.00 $24.99
ZippyPaws Halloween Dracula Dog Costume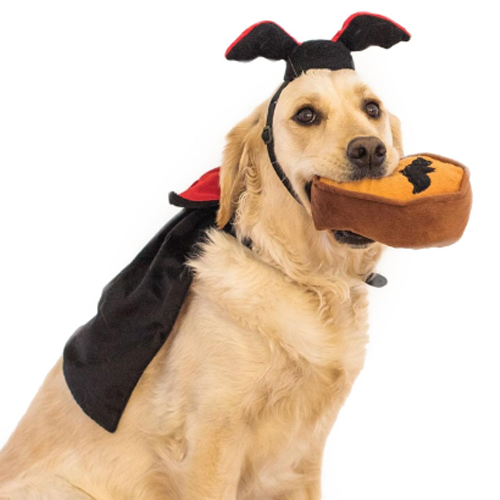 Elevate your dog's Halloween game with the ZippyPaws Halloween Dracula Dog Costume! This 3-piece kit includes a tie-on costume, bat ears, and a cape. Not to forget the squeaky plush coffin toy for extra playtime excitement. Get ready for some spook-tacular fun this season. Size: 17 x 6 x 3 inches.

DEAL PRICE: $18.99
Dog Halloween Funny Pumpkin Dog Costume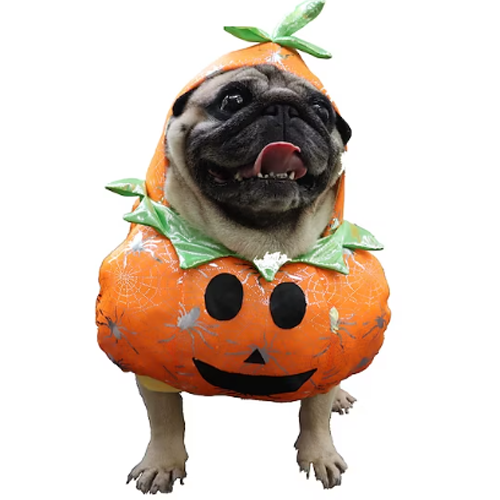 This versatile costume is perfect for Halloween and winter. Made of durable polyester, it's compatible with both cats and dogs. The funny pumpkin design suits cosplay and casual daily wear. Available in various sizes, it ensures a soft, comfortable, and washable fit for breeds like Baby Pet, Papillon, Bichon Frise, and Pomeranian. Enjoy the holiday season in style and warmth.
DEAL PRICE: $22.99
Devil Pet Costume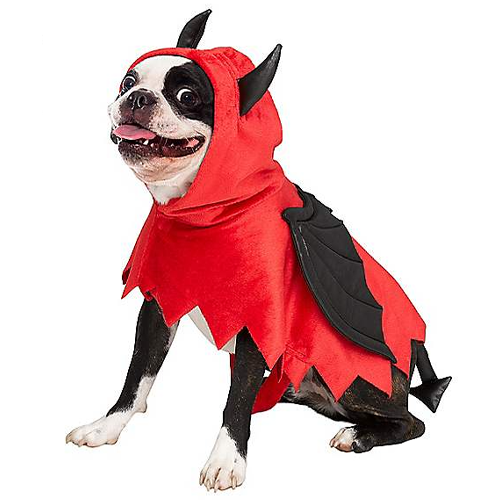 Unleash your pet's mischievous charm with this devilish pet costume, perfect for Halloween fun. It comes complete with a comfortable cotton poncho that's easy to care for with machine washing. Imported for your convenience.
Material: Cotton
Care: Machine wash

DEAL PRICE: $19.99
Classic Batman Costume for Pets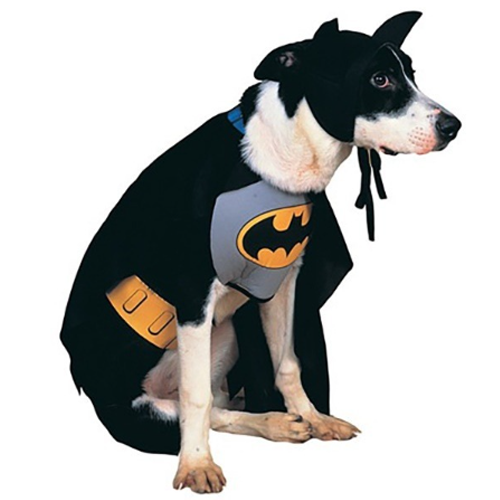 Prepare your canine companion for their own heroic escapades with the Classic Batman Pet Costume! Crafted from 100% polyester, this costume includes a black Batman cape with two fabric ties, a grey polyfoam chest piece featuring the iconic Batman logo, and a yellow utility belt secured with a black fabric tie. Completing the look are pointed bat ears that tie around the head. Now your pup can channel their inner Bat-Hound this Halloween.
DEAL PRICE: $19.99
Bootique Taco Costume for Dogs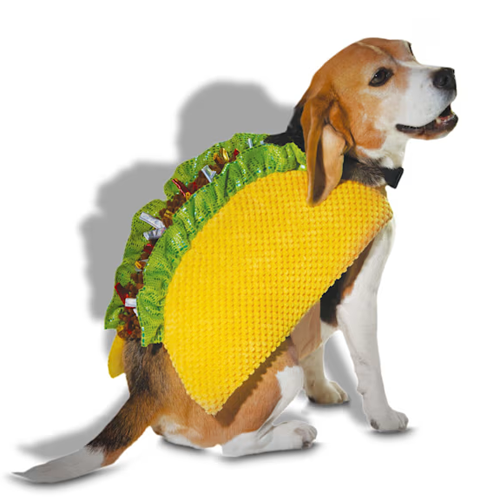 What's more adorable than a pup dressed as a taco? Embrace the spooky season with the Taco Costume from Bootique. Featuring a taco design and secure hook and loop closure, it's perfect for Halloween parties and trick-or-treating adventures. Get ready for a howlin' good time!|
Primary Color – Multi-Color
Size – XX-Small
DEAL PRICE: $7.00 $21.99
Rubies Elephant Cape Dog Costume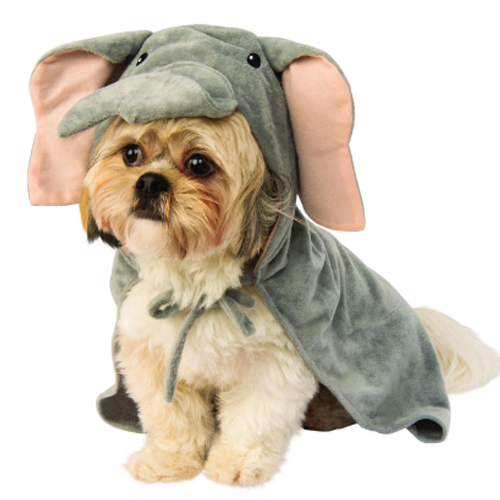 Transform your furry friend into an adorable elephant with the Rubies Elephant Cape Dog Costume! This soft, gray plush cape features charming elephant details on the hoodie and ties securely around the neck. Ideal for pups who prefer lightweight attire. Capture memorable moments and share cuddles in this delightful costume. Available in various sizes to ensure a perfect fit.

DEAL PRICE: $8.38
Funny Bat Dog Halloween Costume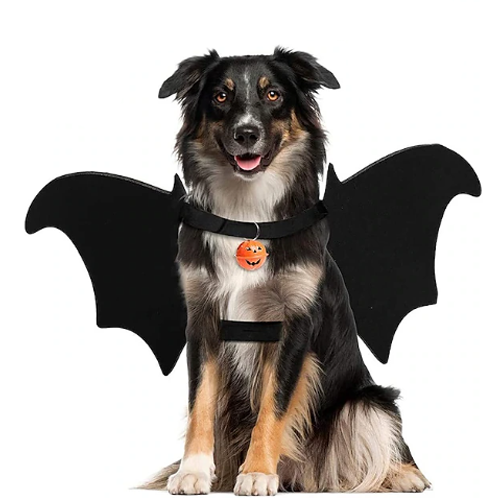 This versatile costume suits both cats and dogs and is crafted from durable Oxford fabric. Ideal for parties and adding a touch of humor, it's perfect for Halloween, outdoor adventures, or casual daily wear during the summer season. This soft, breathable, comfortable, and washable costume is also waterproof. It's suitable for dog breeds such as Bichon Frise, Pomeranian, Baby Pet, and Papillon.

DEAL PRICE: $19.49
Ghost Face Pet Costume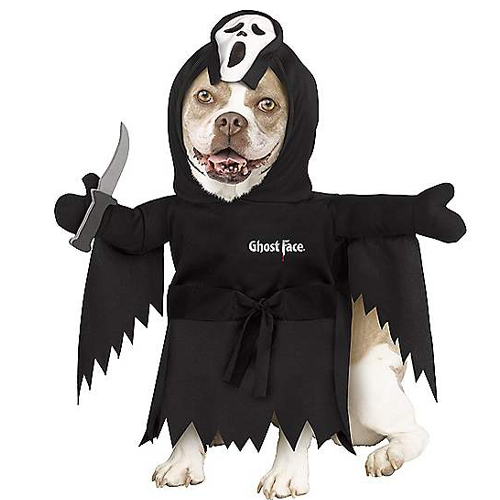 Get your pet in on the Halloween fun with this officially licensed Ghost Face® costume! It comes complete with a hooded jumpsuit and mask made from nylon and spandex. Easy to care for with a hand wash, this costume adds a spooky touch to your pet's ensemble. Imported and featuring the Ghost Face trademark, it's a unique addition to your family's celebration.

DEAL PRICE: $24.99

Thank you for joining us at CouponX Blog as we explored the world of Halloween dog costumes. We've uncovered the best products and deals to help you and your furry friend enjoy a Happy Halloween together. Whether you're aiming for cute or spooky, remember that the right costume can make your pet the life of the party!