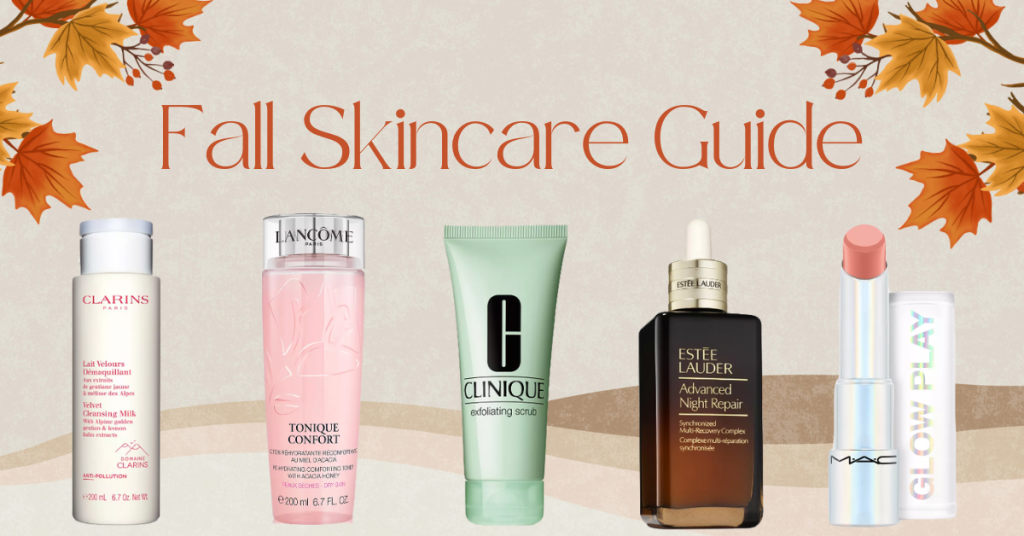 A Fall skincare routine should focus on addressing the changing weather conditions and potential skin concerns that come with the season. As the weather becomes cooler and drier, you'll want to adjust your skincare routine to keep your skin healthy and hydrated.
We at CouponX Blog made for you a complete Fall Skincare Guide that includes 10 steps routine and some products recommendations. We strongly believe that you will benefit from using some of these luxurious and well-known products and brands, so don't miss out on great deals at Macy's.
Keep in mind, that Macy's offers Free shipping for orders over $49, plus for most of the products below – the store has Complimentary skincare gifts! Jump right in, and take a good care of your skin this Fall with CouponX Blog.
Here are our steps and product recommendations for a Fall skincare routine:
Step 1: Cleansing
CLARINS Velvet Hydrating Cleansing Milk
Tips & Tricks: Use a gentle, hydrating cleanser to remove dirt, oil, and makeup without stripping your skin of its natural oils. Cream or milk cleansers are good options for fall.

About Product: This plant-enriched cleanser suitable for all skin types. It gently removes impurities, makeup, and pollutants without disrupting the skin's microbiota. Formulated with organic golden gentian and organic lemon balm extracts, it soothes and softens the skin.
Step 2: Exfoliation
CLINIQUE Exfoliating Face Scrub
Tips & Tricks: Exfoliation helps remove dead skin cells, allowing your skin to better absorb moisturizers and serums. Use a chemical exfoliant like glycolic acid or lactic acid 1-2 times a week to maintain skin texture.

About Product: It's a water-based exfoliating scrub designed for strong, oily skin. It deflakes, refines, and softens fine lines, leaving the skin refreshed. It's paraben-free and phthalate-free. Use it once a day in the morning, avoiding the eye area and active breakouts.
Step 3: Toning
LANCÔME Re-Hydrating Comforting Toner for Sensitive Skin
Tips & Tricks: Apply a hydrating and pH-balancing toner to prep your skin for the next steps. Recommended alcohol-free toners with ingredients like hyaluronic acid or rosewater work well.

About Product: It's alcohol-free facial toner with Hyaluronic Acid, Acacia Honey, and Sweet Almond Oil, providing deep hydration, removing impurities, and prepping the skin for makeup or skincare. Suitable for all skin types, it increases hydration by +19% and improves skin texture and radiance.
Step 4: Serums
ESTÉE LAUDER Advanced Night Repair Multi-Recovery Complex Serum
Tips & Tricks: Use serums with ingredients like hyaluronic acid, vitamin C, or niacinamide to address specific skin concerns. Antioxidant-rich serums can help protect your skin from Fall environmental damage.

About Product: It offers 7 key skin-renewing benefits, including line reduction, firmness, hydration, and more. The serum defends against environmental damage and providing 72-hour hydration. It's dermatologist-tested and free of synthetic fragrances, parabens, and sulfates.
Step 5: Moisturizing
LANCÔME Hydra Zen Glow Liquid Moisturizer
Tips & Tricks: Pick a richer moisturizer to provide your skin with added hydration and create a barrier against the cold, dry air. Look for moisturizers containing ingredients like ceramides, shea butter, or oils like argan or jojoba.

About Product: Get 24-hour hydration and antioxidant protection for all skin types. Its non-sticky, lightweight formula strengthens the skin barrier, absorbs quickly, and works well under makeup. Key ingredients include amino acids, hyaluronic acid, aloe vera, and rose extract. It's non-comedogenic, paraben-free, sulfate-free.
Step 6: Sunscreen
SHISEIDO Ultimate Sun Protector Lotion SPF 50+ Sunscreen
Tips & Tricks: Even in the fall, UV rays can still damage your skin. Apply a broad-spectrum sunscreen with SPF 30 or higher every morning. Pick a moisturizing sunscreen for added hydration.

About Product: It features SynchroShield Technology, offering broad-spectrum protection against UVA/UVB rays. It becomes stronger in water, sweat, heat, and wind, providing lasting defense. Suitable for all skin types.
Step 7: Eye Cream
BOBBI BROWN Hydrating Eye Cream
Tips & Tricks: Consider using an eye cream to address under-eye concerns like dark circles or puffiness.Recommended eye creams with ingredients like peptides or hyaluronic acid can be beneficial.

About Product: It's a lightweight, soothing eye product. It leaves the eye area soft and refreshed, making it ideal for use alone or under concealer. Key ingredients include Enriched Mineral Water Blend, Aloe Vera, Witch Hazel extract, Jojoba Seed, Avocado Oil, and Squalane.
Step 8: Lip Care
MAC Glow Play Lip Balm
Tips & Tricks: Don't forget to care for your lips, which can become dry and chapped in the fall. Use a nourishing lip balm. Use lip balms with ingredients like beeswax, shea butter, or coconut oil.

About Product: This glossy tinted lip balm combines color and care. It contains shea butter, mango, and jojoba seed oils for immediate soothing, smoothing, and hydration. The product moisturizes, nourishes, smooths lip lines, and provides immediate plumping.
Step 9: Hydrating Masks
ORIGINS Hydrating Face Mask with Avocado & Glacier Water
Tips & Tricks: Use hydrating masks or sheet masks once a week to give your skin an extra boost of moisture. Hydrating masks with ingredients like hyaluronic acid or aloe vera.

About Product: This ultra-moisturizing sleeping mask provides 72-hour hydration with Glacier Water, Hyaluronic Acid, and Avocado Butter. It nourishes and hydrates thirsty skin. The formula is clean, free of parabens, sulfates, mineral oils, silicone, petroleum, and phthalates.
Step 10: Night Cream
CAUDALIE Resveratrol-Lift Firming Night Cream
Tips & Tricks: If you have dry or mature skin, consider using a heavier night cream to lock in moisture overnight. Night creams with retinol or hyaluronic acid can be beneficial.

About Product: It contains resveratrol, hyaluronic acid, and a collagen alternative helps visibly firm, lift, and redefine facial contours overnight. It's enriched with peptides and has a relaxing fragrance. Clean ingredients and cruelty-free. Apply in the evening after your serum for smoother skin.
Fall skincare at CouponX Blog brings you exclusive deals and discounts on all your autumn essentials. Embrace the season with savings on hydrating serums, moisturizers, and more!